Here's how to find us...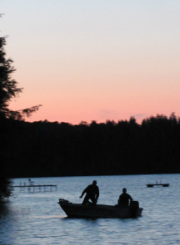 Nicolet Shores resort is located about 15 miles northeast of Eagle River, Wisconsin, or 8 miles southeast of Phelps
Rhinelander Regional Airport is about 35 miles away
The nearest major airport is Austin Straubel airport in Green Bay -- about 150 miles away
Directions from Green Bay:
From Green Bay, take Highway 29 west to Wittenberg
From Wittenberg, take Highway 45 north to Eagle River
At the intersection of Hwy 45 & 70, go east on Hwy 70 about 11 miles to road 2196 (Kentuck Lake Road).
Turn left on 2916; do NOT leave Hwy 70 until you get to Kentuck Lake Road!
Travel about 4 miles on Kentuck Lake Road. Follow the signs; there will be several sharp, 90-degree turns.
At the sign, turn right on Nicolet Shores Lane.
Travel about 0.5 miles on Nicolet Shores Lane to the resort on your left. It will be worth the drive!
---
Wisconsin's wonderful northwoods!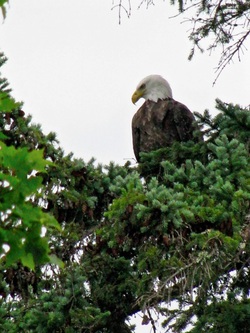 We like to say that our relaxing resort is "conveniently located in the middle of nowhere." Our quiet neighborhood in Vilas County is a secluded area 1/2 mile from the Nicolet National Forest, where there's no shortage of wildlife or pristine, natural scenery. Just down the road on Highway 70, you'll find dining, shopping, family recreation and entertainment in the northwoods community of Eagle River, Wisconsin, the "Snowmobile Capital of the World." From the ice palace that's sculpted each January to March's Klondike Days or the Cranberry Festival in October, this "up north" destination is hopping 365 days a year!

Click on the links below to find out more about our northwoods neighborhood:

---